Infrared Heaters for Churches
Proven heating solutions for churches
Given that 72% of the energy consumed by any church is used in heating the building, choosing the correct heating solution will be vital in meeting this target.
Herschel Infrared heating provides churches with the ability to install an energy-efficient, effective radiant heating system that can be tailored to the specific needs of any particular space. An electric heating solution that can be powered by a renewable energy tariff, to ensure carbon footprints are minimised.
Why do Churches Choose Infrared?
Infrared (radiant) systems directly heat objects and people in a space as opposed to heating the air and circulating it, thereby saving energy;
Reduced carbon footprint – with the correct energy supply (any form of renewable energy or green tariff ) infrared heating can be run on a zero-carbon basis;
Enables a much more consistent, comfortable temperature for the congregation;
Quick, simple installation – infrared heating simply needs an electricity supply and can be wall or ceiling mounted in the correct place (portable solutions also available);
No requirement for maintenance checks;
Highly controllable – simple operation to ensure the right people and spaces are heated at the right times with no wasted energy;
Solid-state, no moving parts – long life solutions;
No noise;
Choose between zero light and warm glow heaters;
Infrared warms the building fabric itself helping to preserve buildings and reduce damp levels.
Find more information on infrared heating for churches here.
Fantastic feedback in from Newquay Evangelical Church – improved warmth and a reduction in consumption of 54% from using Herschel.
Professional Specification Service
Herschel has a team of in-house surveyors who perform on-site and desktop estimating services for commercial heating projects.
Contact us with your project details
Browse Church Heating solutions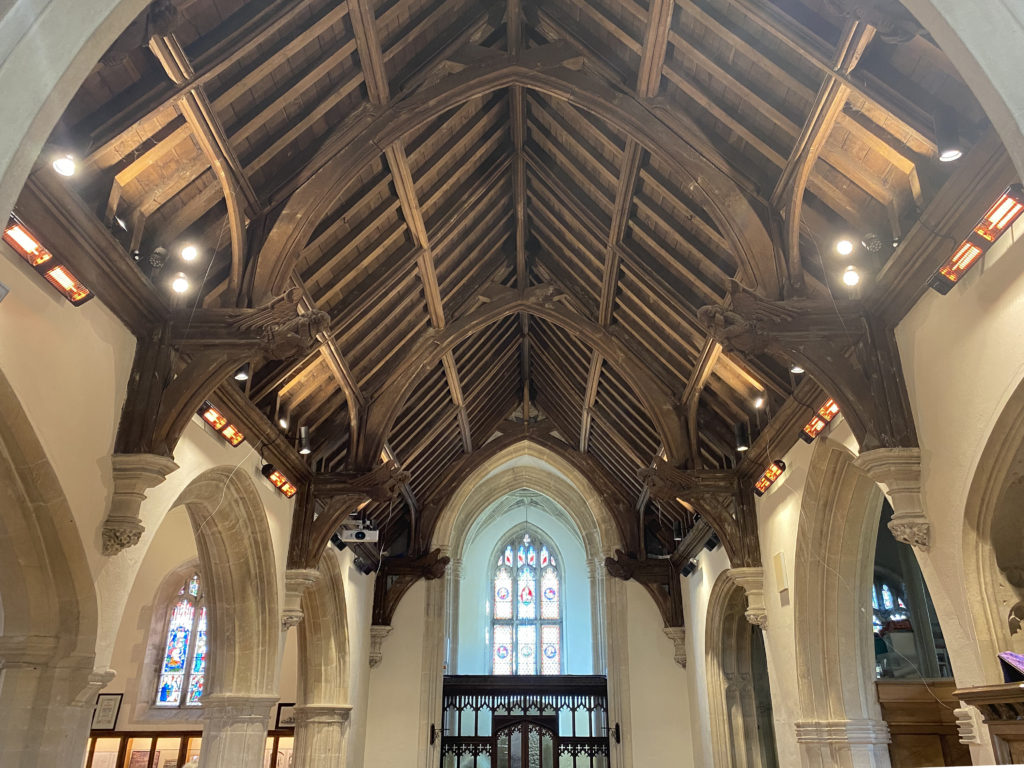 Which Solution - Zero Light or Warm Glow?
All Herschel heaters use the latest technology to provide efficient and comfortable warmth from either zero light heaters or a low glare, non-intrusive solution (unlike the older style quartz heaters that were previously available elsewhere on the market). What is right depends on any limitations or restrictions within the Church building and how the heaters are intended to be run. Considerations include:
The intensity of heat required;
Speed of warm-up required;
Age of church and insulation;
Mounting heights for the heaters;
Control and operation of the heaters.
The Herschel team or your Herschel installer can provide advice and a tailored specification. A combination of both ranges may be the best option. Both ranges are excellent for preserving old buildings and protecting interiors.
Customer Testimonials
"Such an amazing product"
Thank you for providing such an amazing product. So thoughtfully designed by your team and perfect for this project on every way. ❤️❤️❤️
Gabrielle Blackman, Interior Designer DIY SOS, on Herschel panels and Summit heaters for Blackburn's charity Nightsafe, supporting the young homeless, aired on BBC1 13 November 2019. Via Instagram @ cushioncrisis.
"Heaters have been perfect".
The Colorado R heaters have been perfect. Our electrician had no problem connecting them so installation was quick. The groups who meet in the room have been so grateful. The heaters are logical to turn on and adjust; the heat-up time is almost instant and the heat level is comfortable. It's not a drying heat. They are absolutely silent – in addition to the discussion groups, we now hold meditation sessions in the room, something we couldn't do with the portable fan heaters.
"The best thing for our church"
"The best thing for our church. The old infrared heaters we had were terrible, no more glaring light, no buzzing noise and no more complaining from our elderly congregation of being cold. Really quick heat up times and have saved us a fortune against our old running costs as well as reducing the power we used by 40%. We are now looking at the rest of the areas in our church, after having trialled Herschel in the main rectory. Adam and his team at Herschel have done a brilliant job and should be very proud".
John Horton, Church Warden, Salisbury Park United Reformed Church,
"Comfortable for the first time"
"Absolutely fantastic! Looks great & I'm comfortable for the first time. The landlord is really impressed too."
"Working just as we hoped"
"Having researched the different forms of heating for our church we decided that Herschel Far infrared heaters were the company that we were most interested in.
On contacting Matthew Dodds, of Herschel, we found him most helpful and informative.  The online assessment of our particular requirements was most useful.  The heaters are now up and running and working just as we hoped.  All the church members seem to be very impressed.
I cannot praise Matthew Dodds and Herschel highly enough as they are very efficient with nothing being too much trouble".
Peter Rothwell – Bekesbourne Church