Infrared Office Heaters
Innovative heating solutions for offices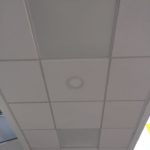 Make full use of valuable wall and floor space by switching to Herschel's Infrared Office heaters. Our 60 x 60 cm ceiling tile heaters fit perfectly into suspended ceiling grids and blend in with the ceiling. The radiant nature of Herschel Infrared means the heat goes exactly where you want it and you don't waste excess energy warming up unused areas of a room. There is no noise, no moving parts and no maintenance. Infrared heat helps maintain a healthy damp-free office atmosphere.
For unusual offices such as converted buildings that may have higher or pitched ceilings, our Summit and Pulsar heaters provide the perfect solution.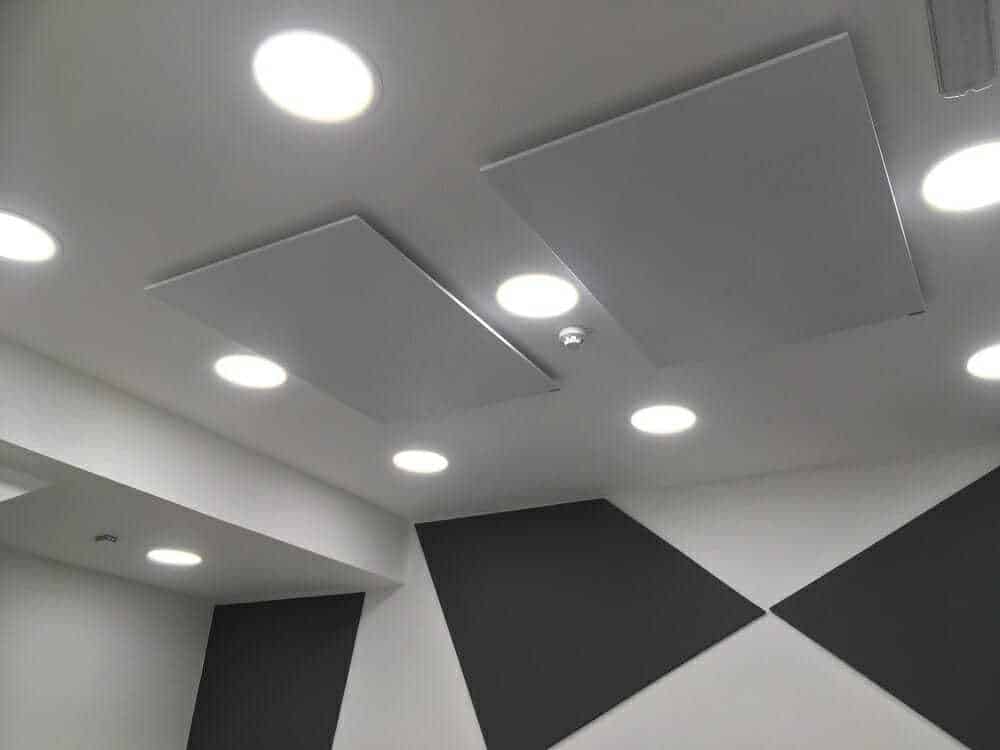 Professional Specification Service
Herschel has a team of in-house surveyors who perform on-site and desktop estimating services for commercial heating projects.
Contact us with your project details
Browse Infrared Office Heaters
Select XLS – White Frameless Infrared Panel Heater

View Range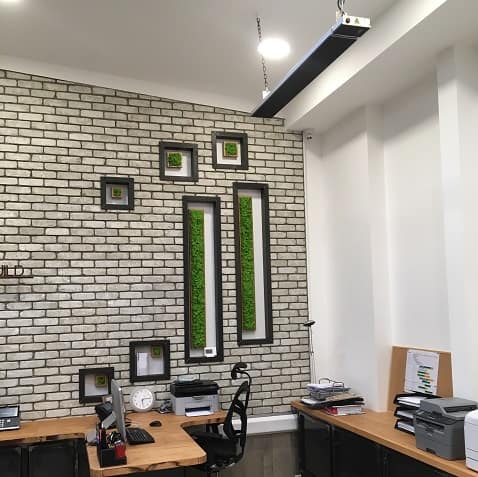 Heat your office from the top down
Infrared ceiling heaters can be installed on your office ceiling and point downwards to warm the room and occupants below. Ceiling grids make excellent spaces to fit our 350W ceiling tile heaters, warming an area from 6-8m2, so replacing a tile with a heater every few metres provides a very discreet, even heat coverage for very low energy consumption. They are specially designed to minimise heat loss from the rear and come complete with a 5 year warranty.
Our Summit and Pulsar heaters offer effective ceiling mounted heating solutions where office ceilings are higher or pitched.
Infrared panel heaters are very easy to install and can easily be controlled with Herschel Controls. They make the perfect replacement for bulky wall mounted electric convection heaters or night storage heaters. Our panels are energy efficient, maintenance free and are easy to install and control.
Inspiring Ideas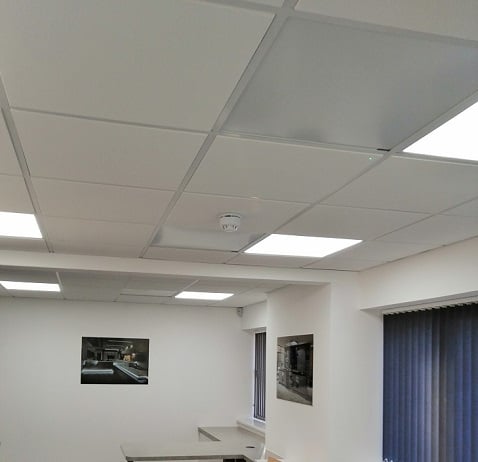 Heating for office spaces
Find Inspiration
Heating for office spaces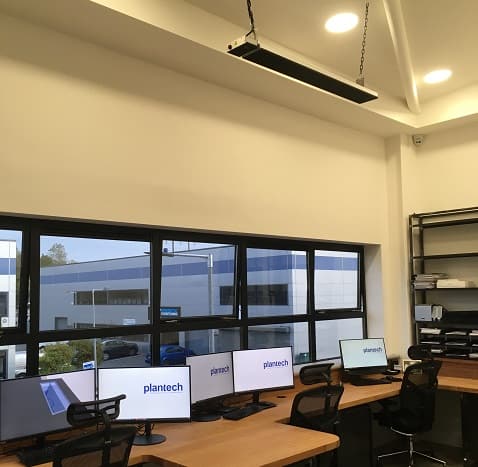 Office heating solutions for Architects Office
Find Inspiration
Office heating solutions for Architects Office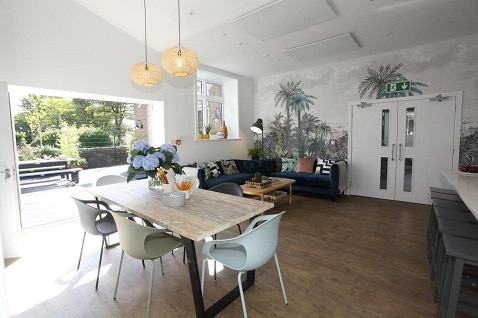 Herschel donates heaters to DIY SOS
Find Inspiration
Herschel donates heaters to DIY SOS
Customer Testimonials
"Can't recommend Herschel and these radiators highly enough".
We live in an apartment in a converted listed building with tall ceilings and large sash windows. The electric heating system that was put in as part of the conversion just couldn't heat the space and we suffered through a few very cold winters.
Last year we got in contact with Herschel and they talked us through all the options available, we settled on the Summit panels as they look sleek and stylish and it's absolutely changed the feeling of our home. Not only do they heat our home amazingly but as silly as it sounds, it's a real comforting warmth rather than the stuffy feeling you can get some convection radiators.
Can't recommend Herschel and these radiators highly enough.
"Such an amazing product"
Thank you for providing such an amazing product. So thoughtfully designed by your team and perfect for this project on every way. ❤️❤️❤️
Gabrielle Blackman, Interior Designer DIY SOS, on Herschel panels and Summit heaters for Blackburn's charity Nightsafe, supporting the young homeless, aired on BBC1 13 November 2019. Via Instagram @ cushioncrisis.
"Really comfortable heat"
"Herschel's heated mirrors are perfect for bathrooms and shower rooms. Our meeting areas use heated blackboards which are great for our designers to sketch and record ideas on. The designer Pulsar makes a bold statement as customers enter the reception and compliments the interior design perfectly. Summit units are suspended above design workstations to heat where and when required. Ceiling mounted heater panels free up wall space and provide really comfortable heat". Alex Pankoff, Nuhaus
"Thrilled with this heating"
"The heaters work perfectly maintaining a good office temperature even during the coldest snap in December. We are thrilled with this heating and the service received".
Microscooters
"People have been amazed"
"A couple of years ago we decided to update and enlarge the kitchen into the breakfast area. One of the problems was that there were 2 radiators on opposing walls where we wanted additional cupboards. So the problem was how to heat the room without underfloor heating or no wall space!
The answer laid with Herschel and their range of far-infrared heaters, which they claimed could be fitted to walls and ceilings. Once the technology was explained, it made perfect sense in that they heat us the same way as the sun, which is quite a long way away and above our heads!
Does an excellent job of heating us in the kitchen.
Since fitting, people have been amazed how good it is, after pointing out the panel, which nobody notices.
Would definitely recommend Herschel heaters for all manner of uses inside or outside the home, offices, warehouses or anywhere you need to heat an area."  Mr Axtmann
As used by: