Rapid dispatch
Expert Advice
30 Day Returns
Choose the right outdoor heater for you from our extensive range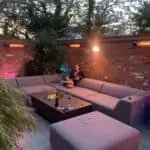 Our range of high quality, high performance, stylish electric patio heaters are ideal for extending your summer evenings outside and for all year alfresco use for cafes and restaurants.
For most outdoor spaces we recommend choosing warm glow heaters from our Sunset range – the Herschel California, Colorado, Florida and Hawaii.
For more exposed areas our Performance range heater, the Manhattan, is powerful but still offers a low glare solution.
For indoor and sheltered outdoor areas, with low air movement, our zero light heaters may be the solution for you – Herschel Summit and Aspect XL.
Havana is a portable heater ideal for under table heating.
Sunset, Performance  and Zero Light ranges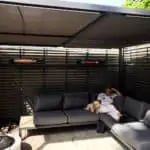 Herschel Sunset Range
Our sunset range heaters use our latest, carbon fibre heating lamps. These heaters produce a very pleasant deep orange warm glow and create a great, cosy ambience. The heating lamps are energy efficient and offer long lifetimes of  up to 10,000 hours. They are the very latest in outdoor heating technology.
Herschel Performance  Range
Producing a "hotter" and more focused heat output, our Performance range incorporate our shortwave lamps but with a specially developed low glare coating which reduces light output and increases heat output. They produce a low glare, orange light and are perfect for more exposed or windy areas.
Herschel Zero Light Range
This range is ideal where a more permanent heat is required such as semi-enclosed restaurants and bars, balconies, conservatories and covered patios. Also great for use in warmer climates and rooms which open to the outdoors.
All Herschel's electric patio heaters offer high weather protection for outdoor installation. They are all made from high grade materials to withstand the effects of weather and give many years of maintenance free use.
Need more help choosing? Take a look at our simple guide to outdoor heating for more information.
Inspiring Ideas
Wall mounted patio heaters
Heating outdoor school areas
Soho House restaurant heating
Testimonials
Herschel's Legacy