100+ Outlets
Expert Advice
Energy Efficient
Infrared heaters for hot yoga studios & spas
The heating solution of choice for hot yoga studios, spas and health clubs.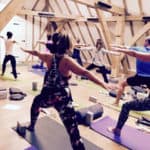 Far Infrared heaters are used in modern infrared saunas and are perceived by many in the health industry to offer health benefits such as encouraging healthy metabolism. The wavelength they emit is in the "vital range" of heat absorbed and radiated by the human body itself, making it a very natural form of heat.
We are the UK market leader in hot yoga heating. Our hot yoga heaters are zero light, silent and energy efficient.They are maintenance free, long life and we have options for ceiling or wall mounting.
Our Summit and Aspect XL heaters can easily achieve the 40 °C+ temperatures required when properly specified and we have specialist controls to manage these temperatures. Spas and health clubs are also using Herschel infrared heaters  to provide desired levels of heating.
To find out more about how to heat a hot yoga studio please contact us for specification and quote.
Inspiring Ideas
Effective heating for Hot Yoga

Testimonials
Commercial Clients