100+ Outlets
Expert Advice
Energy Efficient
Infrared Heating for Student Accommodation
Slimline, wall or ceiling mounted infrared heaters for effective, easy to control warmth for students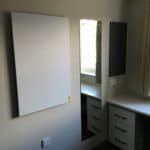 Space saving, silent, maintenance free infrared heating for student accommodation.
For student accommodation our panels are being chosen by leading universities and accommodation providers as well as private landlords.
Successful trials have shown that students prefer the feeling of infrared heat compared to the stuffiness associated with convection heaters and because the room itself is heated and not the air, our heaters reduce damp issues and provide a more consistent level of warmth. The ability to ceiling mount or place higher on the walls frees up valuable space for furniture and also reduces the risk of students covering the heaters.
Unlike convector heaters, our heaters are also completely silent. Extensive trials have shown savings of up to 20% on energy consumption and significant savings on maintenance.
Select XLS – White Frameless Infrared Panel Heater

View Range
Inspiring Ideas
Simple, sustainable student accommodation heating

Testimonials
Thank you for providing such an amazing product. So thoughtfully designed by your team and perfect for this project on every way. ❤️❤️❤️
Gabrielle Blackman, Interior Designer DIY SOS, on Herschel panels and Summit heaters for Blackburn's charity Nightsafe, supporting the young homeless, aired on BBC1 13 November 2019. Via Instagram @ cushioncrisis.
[Comparing Select XL to existing electric convector]
On the 'feel' of the heat:
"It felt like a warm summer's day, not like a heater, & was very comfortable". "Old heaters were more stuffy, this one felt a lot better". "I can feel the heat all over the room, & it feels like being surrounded by warm water rather than having a heater on".
On the levels of heat / temperatures:
"Really very good, very satisfied". "Works a lot better than the old heater & seems to hold the heat better".
On the speed of warming up:
"Heats very quickly, literally in matter of minutes. I can turn it on go & make a cup of tea, & the room will feel warm when I get back". "Very quickly, its hot in 5 minutes".
On changing anything:
"No. It looks so much better & takes up much less space than the old heater". "Not really, I prefer the new heater".
On heat loss:
"Not a problem". "The room seemed to stay warm for a long time"
Commercial Clients