Improve comfort levels and save energy with our innovative space heating range
Specially designed for heating areas within large buildings, our infrared space heaters directly heat areas that require heating, where and where people are working or relaxing.
The ability to create heated zones can result in significant cost savings when compared to convection heating (fan heaters, air curtains, air conditioning), because hot air cannot be contained within a zone.
Our infrared space heaters are installed to radiate infrared heat outwards and downwards and will warm people, objects and the building itself within the effective area of each heater.
Herschel heaters have rapid warm up times, are easy to install, low maintenance, completely silent and built to last. Compared to quartz and halogen heaters which are too hot and intense for most indoor applications, we only offer zero light or warm glow heaters which produce a pleasant and naturally absorbed heat – perfect for keeping people warm for prolonged periods of time.
For heating areas which are in the public eye such as retail space, halls, large reception areas, bars, restaurants, churches etc, choose heaters from our designer space heater range. Where aesthetics are less important such as industrial units, maintenance bays, warehouse packing areas, factories and workshops, our warehouse and industrial heaters are the perfect solution.
For large project and commercial space heating specifications, please contact Herschel or your nearest Herschel dealer.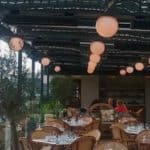 Heating large areas with no glow
Zero light space heaters are large area heaters suitable for a variety of commercial and domestic uses, but they do not emit any glow.
These heaters use far infrared which is the band of infrared heat that human skin absorbs the most efficiently – leading to a very pleasant sense of comfort for the optimum level of power and expenditure.
Because they do not emit any sort of light, these heaters can be installed just where you want them for the warmth without having to think about avoiding any glare which you can get from some types of hotter infrared heater.
These heaters also allow "zoning", which means you focus the heat just where you need it and don't have to heat the whole volume of air in an area to feel any warmth.
Herschel's zero light space heaters can be used in conservatories, garages and garden rooms and many commercial applications and our industrial models are perfect for heating work areas in workshops.