Infrared Conservatory and Garden Room Heaters
How to heat a conservatory or garden room
Heating a conservatory or garden room with Herschel infrared is simple and cost effective. We have a number of infrared conservatory heaters that will allow you to enjoy your conservatory all year round.
Where heating is only required for occasional use we recommend our Summit or our Aspect XL heaters which have a fast warm up time. If your conservatory  is in constant use and has good energy efficient glazing and building specifications, our slimline white panels are ideal.
Herschel heaters are also the best way to heat a garden room, providing a gentle warmth without becoming too hot, great for using your "man cave" all year round or providing background heat to prevent deterioration of contents. The ability to ceiling mount them frees up valuable wall space.
Infrared heaters are unobtrusive and will provide a permanent heating solution which will heat the furniture, walls and floor or the room without wasting energy heating the air. Other benefits of Infrared include a reduction in condensation and mould.
Browse Conservatory Heaters
Select XLS – White Frameless Infrared Panel Heater

View Range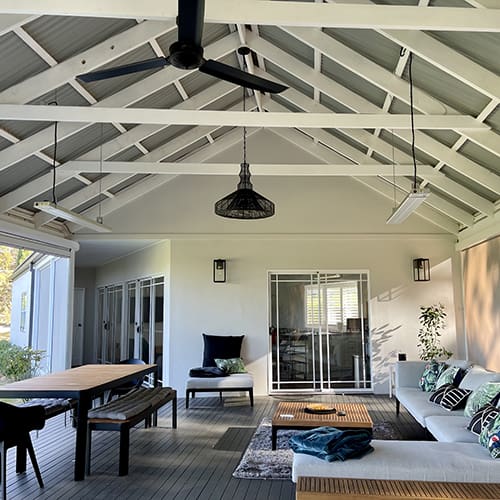 Comfortable conservatories and garden rooms for the colder months
For conservatories and garden rooms that are used occasionally, our Summit or Aspect XL heaters are very cost effective as you will only be heating the room when you want to use it. Summit is a powerful zero light ceiling or wall mounted heater available with a remote control, timer and variable power settings or also comes in a non-remote version for use with a thermostat. The white version looks especially attractive in conservatories and rooms which open to the outdoors.  Aspect XL is a more compact heater designed for wall mounting only and will need a thermostat, such as our Herschel MD2.
For cold conservatories and garden rooms our Sunset range of warm glow infrared heaters offer fast warm up times.  Colorado is a wall mounted heater or the Hawaii can be suspended from ceilings.
Inspiring ideas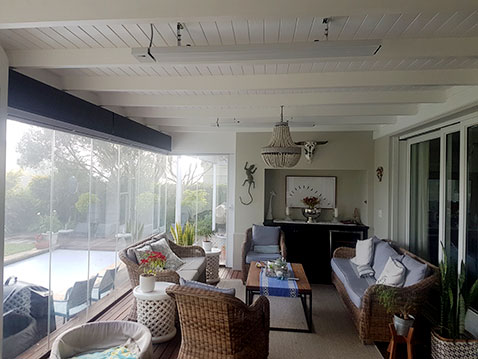 Garden Room South Africa
Find Inspiration
Garden Room South Africa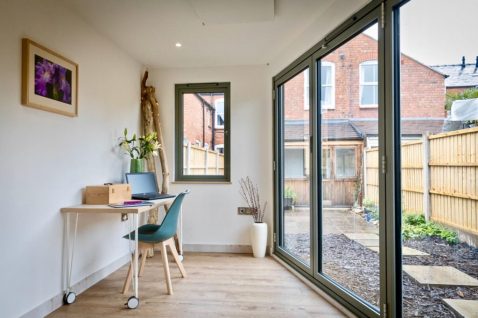 Best way to heat a conservatory or garden room
Find Inspiration
Best way to heat a conservatory or garden room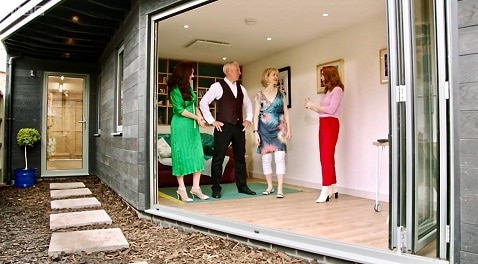 Your Home Made Perfect on BBC2
Find Inspiration
Your Home Made Perfect on BBC2
Customer Testimonials
"Part of the ground breaking BBC 2 TV show"
As the garden room & garage designed for us by architect Laura Clarke as part of the ground breaking BBC 2 TV show "Your Home Made Perfect" was both contemporary & minimalist in style, we knew we needed to find a range of fittings & furnishings to match. Consequently when Laura suggested Herschel's infrared panels & showed us how versatile they were, we thought they could work very well in our new build. Whilst we liked idea of rimless white panels that could be controlled to suit when we used the room, they are so much better than we'd imagined ! However the best thing about them is that by siting them on the ceiling, they are not only unobtrusive, but automatically free up all the wall space to use flexibly. The result is a very spacious & visually uncluttered room that is not only cosy in winter as a place to work from home, but also to relax in an evening or on the weekend. We couldn't be happier !
"Comfortable for the first time"
"Absolutely fantastic! Looks great & I'm comfortable for the first time. The landlord is really impressed too."
"Visitors really impressed"
We are extremely pleased with the purchase of a  far infrared Herschel heater for our new orangery.  Since it was positioned, we have had snow outside but have been really cozy indoors despite having a glass roof, bifold glass wall, glass door and 5 windows as well as a tiled floor.  There has been absolutely no condensation, the heat is instant and it's positioning is discreet and safe for the grandchildren.
All of our visitors have been really impressed and they can't work out where the heat is coming from. Standing near it is definitely on par with leaning against the kitchen range. Love it.
I'd also like to thank you for your excellent customer care and advice and the swift and reliable delivery. Fitting the unit was very straightforward for our electrician, who had never seen one before.  All in all the whole package was excellent.
"Absolutely delighted"
"Our electrician actually fitted the unit today. He was well impressed and my husband is absolutely delighted with both the unit and the heat".
"I wish I'd known sooner"
I wish I'd known about Herschel sooner. They were very professional and the infrared heaters have been the finishing touch to make our house feel like a home. I've already recommended them to other people.
Period 1350 Thatched Property