Infrared Mirror Heaters
Two in one – elegant mirrors that are also heaters
Perfect for heating bathrooms, Herschel Infrared Mirror heaters do not mist up when they are hot and they radiate cosy, warming far infrared heat directly into the room. This helps keep bathrooms snug whilst keeping walls and fittings warm, dry and free of mould. They are also a very popular choice for hallways, living rooms and bedrooms.
Choose between our German made Inspire range and our high performance Select XLS range. Both are suitable for home and commercial use.
All Herschel's infrared mirror heaters are made with mirrored safety glass, are super slim and frameless.
Browse Infrared Mirror Heaters
Select XLS – Mirror Infrared Heater

View Range

Inspire – Mirror Infrared Heater

View Range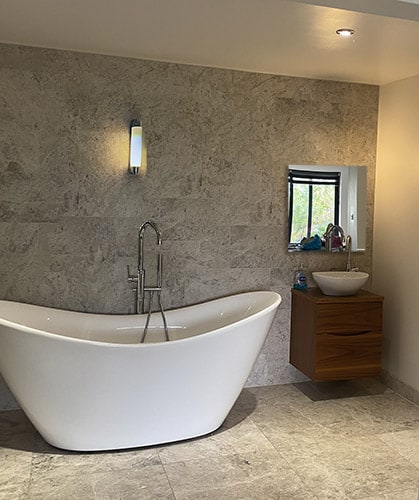 Herschel XLS Mirror Heaters in a bathroom
Our mirror heaters not only heat the room but when on don't steam up – perfect for keeping you warm while you get ready after your bath or shower. Mirrors are available in a wide range of sizes from both our Select XLS and our German made Inspire range.
All of our panels are easy to install and are IP rated for use outside the "splash zones" in bathrooms. Controlling our heaters is easy using one of our specially designed Herschel thermostat options.
Herschel infrared mirror heaters provide homeowners with a modern and stylish solution that is perfect for cosy, effective warmth.
Inspiring Ideas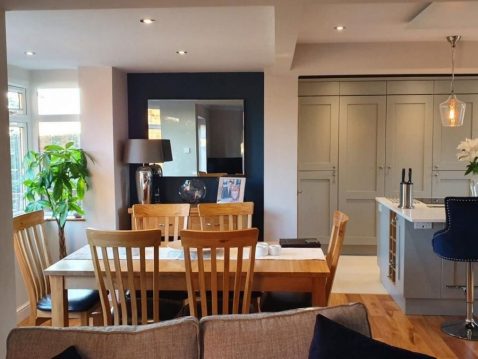 Herschel Mirror Heaters
Find Inspiration
Herschel Mirror Heaters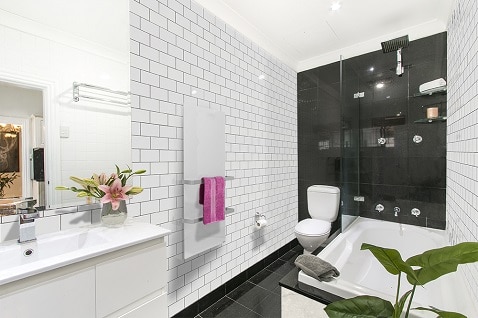 Ideas for electric bathroom heaters
Find Inspiration
Ideas for electric bathroom heaters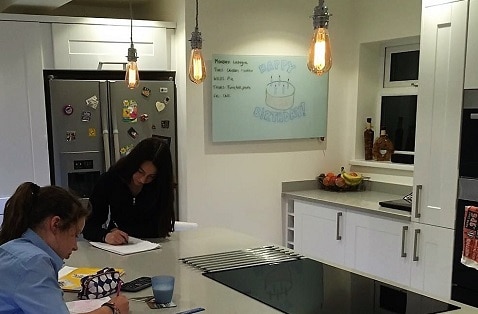 Glass infrared heaters
Find Inspiration
Glass infrared heaters
Customer Testimonials
"Our mirrors are our heating"
"The heaters are stylish, easy to use and fit in perfectly with our period property. Guests just can't believe our mirrors are our heating!"
REBECCA AND RICHARD COLLIS
"Revolutionary product, even better customer service"!
Revolutionary product and even better customer service! A great product, both a mirror and heater in one, for our bathroom. Customer services were great. We made a mistake in our order, ordering the wrong tint of mirror. Customer services were very accommodating and agreed for no fee to exchange our already mounted mirror and send a new one. That is placing the customer first … gets a great review and will have us come back and recommend Herschel!
"Go for infrared!"
"I started to plan my home refurbishment in the Summer of 2016. My priorities were comfort and sustainability. The project involved insulating an old, solid stone house, upgrading the glazing, electrics and heating, plus an extension. I visited Andy and was able to see infrared heating panels and solar working together, so decided to go for both.
Although it's early days, the heating seems very economical to run. The solar contributes to running cost savings and we also use the spare solar electricity to heat water so my home is future-proofed. The whole house is zoned and controlled with Herschel iQ thermostats so I have the heat I like when and where needed. The house is extremely comfortable, and because of the insulation and infrared panels, we operate the system at only 16-18degC air temperature, but still feel warm.
We experienced a range of challenges during the project, but the infrared was the simplest system to integrate with the programme, and the support from the Herschel team was exemplary at all times. The Select XL mirror units, and ceiling mounted panels look great and free up lots of wall space, which really helps in some of the rooms. I also like the zero maintenance of infrared, it's both hi-tech yet very simple to live with. I'd urge anyone undertaking a new-build or refurbishment project to get in touch with Herschel and go for infrared"!
"They're just brilliant".
"We call them the showpiece, the party pieces of the house. They're just brilliant."
"Why did we go with Herschel? It was a strong brand, Herschel's testimonials were out of this world. We had amazing customer service. We were really impressed with the mirror and picture. We thought they'd be a great showpiece to our renovation.   When people come over it's really interesting to see their faces when we tell them these are our heaters! "
Check out the full video testimonial here from our customers Keri and Matt. They love their Herschel heaters so much they jumped out the chance to star in our new TV advert when we asked them.