Affordable heating for apartments
Herschel Infrared heaters are ideal for heating apartments because they are the most practical to purchase and install compared with other eco alternatives like underfloor heating or heat pumps.
Herschel Infrared panels are available in a range of different powers to cater for bigger and smaller apartment sizes and they are designed to be installed high on a wall or on the ceiling, which also frees-up valuable wall and floor space.
Herschel controls give you precise temperature control, meaning you won't overheat your rooms – a common complaint about other heating solutions for apartments which can make rooms a bit stuffy.
Due to the increasing contribution of renewables on the grid, building regulations will no longer penalise electrical heating in favour of gas.  This will make energy performance assessments and therefore likely energy costs and resale values fairer in future for people owning or renting apartments where electric heating has really been the only available choice.
Browse Products
Select XLS – White Frameless Infrared Panel Heater

View Range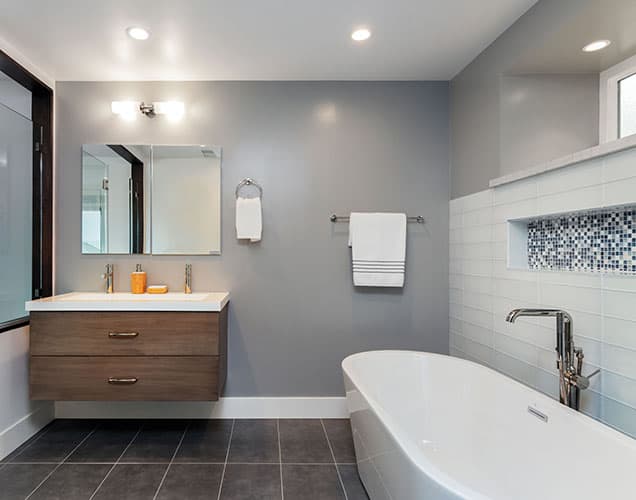 Make the most of your space
Space is always at a premium in apartments so you don't want to sacrifice any more than you need to, to your heating.
Herschel Infrared panels are highly space-saving because they are designed to mount high up on the walls or on the ceiling.
The other advantage with Infrared panels is that you can turn your favourite family photo into a heater, or have a stunning Infrared mirror in a hallway or bathroom, so the heater forms part of the décor as well as saving space.
Herschel XLS White panels can also be made portable by using the optional feet and plugin thermostat (both purchased separately) so you can take your heating with you from room to room.
Inspiring Ideas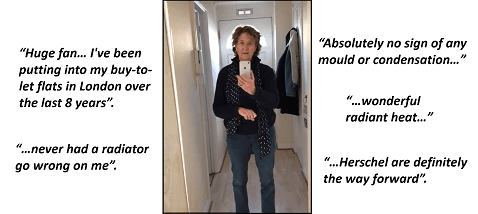 Landlord of BTL portolio
Find Inspiration
Landlord of BTL portolio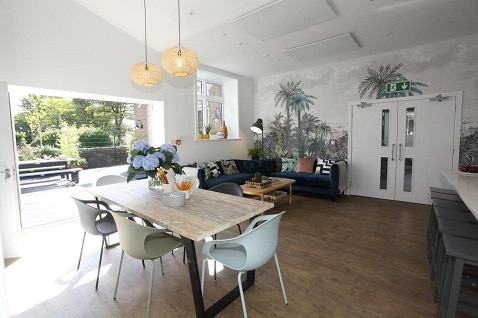 Herschel White Panel Heaters
Find Inspiration
Herschel White Panel Heaters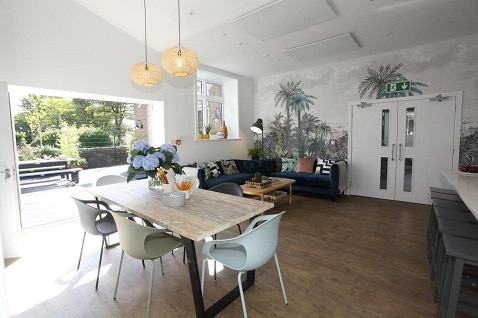 Herschel donates heaters to DIY SOS
Find Inspiration
Herschel donates heaters to DIY SOS
Customer Testimonials
"Can't recommend Herschel and these radiators highly enough".
We live in an apartment in a converted listed building with tall ceilings and large sash windows. The electric heating system that was put in as part of the conversion just couldn't heat the space and we suffered through a few very cold winters.
Last year we got in contact with Herschel and they talked us through all the options available, we settled on the Summit panels as they look sleek and stylish and it's absolutely changed the feeling of our home. Not only do they heat our home amazingly but as silly as it sounds, it's a real comforting warmth rather than the stuffy feeling you can get some convection radiators.
Can't recommend Herschel and these radiators highly enough.
"Doing my bit towards climate change"
My whole experience. 3 infrared ceiling panels and 1 wall mounted space heater. Bought my first ever property. A little mid terrace 1 bedroom house with the bedroom on a mezzanine level. From ground floor to ceiling peak is 4.9m. Very open plan weird shape. The only heating system it had was a plug in electric fireplace… thing, and the gas meter had been took out. Anyway, after days/weeks of research and since I'm a bit of an 'eco friendly nut' – I decided on elec heating system and then on infrared panels as I don't have enough space for anything on my walls. Gas or storage heaters would have been pointless as there is a huge volume of air as it's all open plan and heat rises. My diamond colleague/friend who's an electrician in his very late 50's had never done anything like this, but I assured him he was very capable (lol). Ended up a near full re-wire and new board anyway. I sent off pictures with measurements and descriptions as I had zero clue what size/wattage I had to get and the team were very efficent in telling me what I needed after more than a few emails back and fourth. The instructions on the website which my dear friend spent about 2 weeks reading over, were very clear once he figured it out. Although my joiner did advise putting in extra framing above the ceilings to hold them up, but I lowered mine anyway and had access to the loft so this wasn't a problem for me. Now I'm currently sitting in my new home with them all connected. Bearing in mind at the start of this project, I was a 24 year old painter and decorator who 'doesn't have a clue' and infrared technology is 'a waste of money'. I have now proven people wrong on both points and they are thoroughly amazed at these things. The heat they give off is direct, like the sun. Heats walls, surfaces, objects – which means they do not make the air stuffy like gas radiators or storage heaters which would give me a headache and make me feel like I couldn't breathe. Also considering most storage heater wattage, these are meant to be better on the bills. They just take a bit of getting used to. I'm very pleased with them and the overall experience with this company. I hope they last a long time so this will be my first and last purchase. Unless in 20+ years I move, then I will be back and hopefully by then this internet page has thousands of 5* reviews. I did have a problem with the app on my phone (which eventhough I'm giving a 5 star review, does need work). But thankfully the people at herschel gave me an alternative so that I could use this system as was intended and I'm very greatful for that because now I'm cosy. So afterall, now with my panels and my renewable energy electricity supplier, I am now doing my bit towards climate change – at least in my mind… Thanks everyone.
"Revolutionary product, even better customer service"!
Revolutionary product and even better customer service! A great product, both a mirror and heater in one, for our bathroom. Customer services were great. We made a mistake in our order, ordering the wrong tint of mirror. Customer services were very accommodating and agreed for no fee to exchange our already mounted mirror and send a new one. That is placing the customer first … gets a great review and will have us come back and recommend Herschel!